Workshop overview
Not published to students
Current
Teaching language and literature with creativity for creativity
online | € 145 | 4 hours of training by Brad Philpot | 7, 8, 14, 15 October 2021
This
live
online workshop
is aimed at teachers of Language and Literature for the IB Diploma Programme who want to teach with more creativity in the classroom and want their students to engage in creative thinking.

The workshop leader, Brad Philpot, is the author of English A: Language and Literature and English B (both with Cambridge University Press). He is an experienced workshop leader and examiner.
The workshop consists of 4 x 1-hour of instruction, discussion and break-out activities. Sessions are held on 7/8/14/15 October 2021 from 16:00 to 17:00 CET/+1 GMT.
The number of participants is limited to 30 participants, who will be able to engage with each other and the content through Zoom and this website. Recordings of each session and downloadable content will be made available to participants.
The workshop fee is € 145 (excl. VAT if applicable).
Participants will receive a digital Philpot Education certificate afterwards. This workshop is not endorsed by the IB. Register here >
Session
Date
Time
Description
1
Thursday 7 October
16:00 - 17:00 CET
Why teach for creativity? What do we mean by 'creative thinking' and why is it needed in the 21st century? What does creative thinking look like in the Language and Literature classroom? How do learner portfolios play a fundamental role? How is the HL Essay a good for inquiry-based learning?
2
Friday 8 October
16:00 - 17:00 CET
How can teachers teach with more creativity? What can language arts teachers learn from visual arts teachers, design theory and maker spaces? How might teachers rethink their role in the classroom and their workflow? How can teachers use

modelling for

Paper 1 skills?
3
Thursday 14 October
16:00 - 17:00 CET
How can classroom activities encourage more meaningful engagement with literary and non-literary texts? How do we make Language and Literature education more personalised? How can students develop skills that are needed for their exams through project-based learning? What does this have to do with the Individual Oral?
4
Friday 15 October
16:00 - 17:00 CET
How can students take ownership over the literary works and make meaningful connections between them? How can teachers set up students with multiple opportunities for Paper 2?
Workshop leader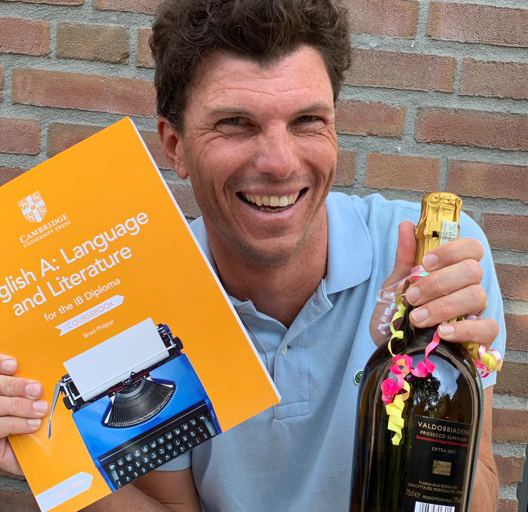 Brad Philpot has a passion for language, literature and learning. He is an experienced examiner, workshop leader, speaker, teacher and textbook author. He has authored two editions of English A: Language and Literature and English B for the IB Diploma Programme with Cambridge University Press. He is the original author of the ThinkIB Subject Site for English A: Language and Literature. Since 2008, he has shared his passion, experiences and expertise with over 3,000 teachers all around the world through Philpot Education, a provider of educational resources and workshops. Since 2020, he has taught English at Frankfurt International School.
Praise
"The personal touch Brad Philpot offered made the difference. A very holistic approach for a workshop leader." - Kathleen Battah, Wellspring Learning Community, Beirut, Lebanon
"I enjoyed the practical suggestions for activities which focused on parts of assessment and also gave me good ideas for work with student. Brad's manner and style are highly conducive to collaborative learning. My department had a great time!" - Vivien Hall, New International School of Thailand