Workshop overview
Not published to students
Current
F

or experienced teachers


Teaching English A: Language and Literature

(previously called: Teaching English A with creativity, for creativity)
online | € 400 | 6 hours of training (4 x 90 minutes) | 14-16-21-23 May 2024, 16:00-17:30 (Amsterdam time)
This
live
online workshop
is aimed at
experienced teachers
of Language and Literature for the IB Diploma Programme. The guiding questions for this workshop include:
How can teachers make the Approaches to Teaching and Learning more explicit in the English A classroom?
How can the Learner Portfolio be used as a tool to make the ATLs more visible?
The workshop leader, Brad Philpot, is the author of English A: Language and Literature and English B (both with Cambridge University Press). He is an experienced workshop leader and examiner.
The workshop consists of 4 x 90 minutes of instruction, discussion and break-out activities. Sessions are held on 14, 16, 21, 23 May 2024 from 16:00 to 17:30 (Amsterdam time).
The number of participants is limited to 20 participants, who will be able to engage with each other and the content through Zoom and this website. Recordings of each session and downloadable content will be made available to participants.
The workshop fee is € 400 (excl. VAT if applicable).
Participants will receive a digital Philpot Education certificate afterwards. This workshop is not endorsed by the IB. Register here >
| Session | Date | Time | Description |
| --- | --- | --- | --- |
| 1 | Tuesday, 14 May 2024 | 16:00 - 17:30 | Why do the IB's Approaches to Teaching and Learning matter? How do we make the ATLs happen every day in the Lang Lit classroom? How might we draw on the ATLs to help students tackle the Individual Oral? Participants will explore these questions by applying a method that encourages creativity, collaboration and critical thinking in the classroom. |
| 2 | Thursday, 16 May 2024 | 16:00 - 17:30 | How can students create a learner portfolio that both showcases their achievements and gives stakeholders a window into their learning journey? How can we draw on the ATLs and use the learner portfolio to help prepare students for Paper 1? This session explores answers to these questions through hands-on activities. |
| 3 | Tuesday, 21 May 2024 | 16:00 - 17:30 | "We shape our buildings; thereafter they shape us." This Winston Churchill quote forms the basis of this session, where we explore how we structure our syllabus, portfolios and even our physical learning spaces to foster the ATLs. We will look at the structures that help students develop the skills for the Paper 2 exam as well. How can teachers set up the students for success on Paper 2 and help them see connections between literary works? |
| 4 | Thursday, 23 May 2024 | 16:00 - 17:30 | This session revisits why we teach in the first place and how we can foster creativity in the language and literature classroom through particular teaching routines and structures. Specifically, we explore the HL Essay and how students can develop lines of inquiry. Participants will showcase their Units of Inquiry in a final presentation. |
Workshop leader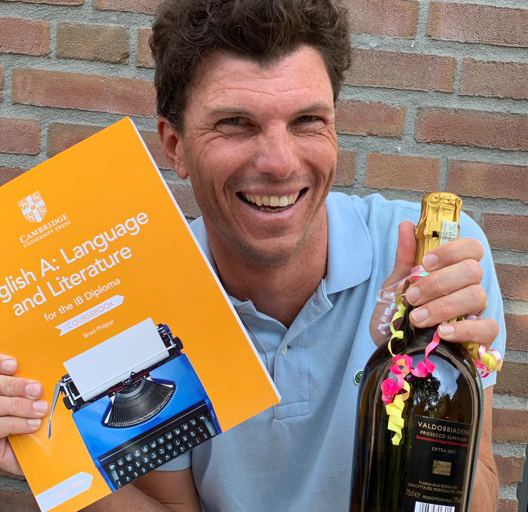 Brad Philpot has a passion for language, literature and learning. He is an experienced examiner, workshop leader, speaker, teacher and textbook author. He has authored two editions of English A: Language and Literature and English B for the IB Diploma Programme with Cambridge University Press. He is the original author of the ThinkIB Subject Site for English A: Language and Literature. Since 2008, he has shared his passion, experiences and expertise with over 3,000 teachers all around the world through Philpot Education, a provider of educational resources and workshops. Since 2020, he has taught English at Frankfurt International School.
Praise
"The personal touch Brad Philpot offered made the difference. A very holistic approach for a workshop leader." - Kathleen Battah, Wellspring Learning Community, Beirut, Lebanon
"I enjoyed the practical suggestions for activities which focused on parts of assessment and also gave me good ideas for work with student. Brad's manner and style are highly conducive to collaborative learning. My department had a great time!" - Vivien Hall, New International School of Thailand